Sisters Community Church is on a mission to spread the love of God and the Gospel of Jesus Christ to Sisters and to the world. We prayerfully support several missionaries, most of whom we know personally and have roots here at SCC, some we are unable to list. We even have connections with other churches and ministries overseas to help and encourage them as they minister to their communities. Join our mission and pray for these folks with us.

"Then Jesus came to them and said, 'All authority in heaven and on earth has been given to me. Therefore, go and make disciples of all nations, baptizing them in the name of the Father and of the Son and of the Holy Spirit, and teaching them to obey everything I have commanded you. And surely I am with you always, to the very end of the age.'" -Matthew 28:18-20
January 15-16, 2021, join the "Speak His Name...Jesus" Global Missions Conference "WATCH PARTY" here at SCC Fireside Room. Discover your unique calling as an ambassador of Jesus Christ.

Friday night 4pm-7:15pm, enjoy one plenary session and a break out session.
Saturday, 9am-4:15pm, there will be 3 plenary sessions and 3 breakout sessions chosen by our Missions Board.

Register today at www.missionconnexion.com. It's FREE!
Please contact our Missions Board or the church office for more information.
Gaby Munoz - Founder, Director
I earned my college degree in Business in 2007 which meant the door to all my dreams had opened, however God had different plans for me. He gave me a vision. I saw myself opening big cages with thick silver bars. As I opened them, there were hundreds of children coming out. I saw myself clothing them, feeding them, hugging them and I heard a voice say "bring the children back to the Father." I knew I was being called to the children, but I didn't know where or when. We are now fighting for the kids from the garbage dump in Xela, so that they may have a life worthy of a child of God. It's such a beautiful adventure! In the garbage dumps, among the bad smells and flies, and in the dust of the villages, the love and grace of God have become tangible to me. I would like to thank you and welcome you to this journey of love and faith, a journey where we everyday see prayers answered and dreams come true.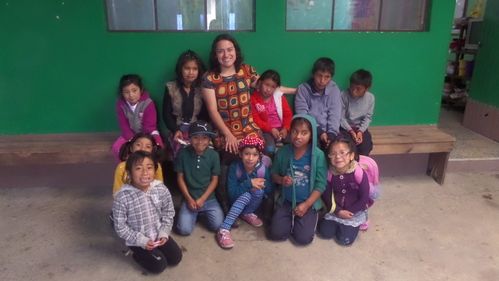 Kapchorwa, Uganda
Janet Storton - Founder, Director
There is a village in the Eastern mountains of Uganda, called Kapchorwa, where a group of women have been learning the American craft of quilting from scraps of fabrics they gather. They work together creating quilts and other products to sell so they can make a life-changing impact on the lives of their families and others less fortunate.
Sisters Community Church helps support the efforts of Young Life to reach the youth in Sisters for Christ. We provide meeting space and volunteers, as well as mission funding. If you are interested in volunteering or need more information, visit their website here.
Grace Life Church & School
Many years ago, Pastor Steve met Calvary and discipled him. Now, Calvary is a pastor too. We have the privilege of supporting he and his wife, Abigail, and their family as they minister to their church and school and to their community.